19% of US internet households now use a time-of-use rate plan from their utility provider
Research firm Parks Associates will host the workshop "Residential Energy Management: Consumer Engagement Strategies" on Monday, February 28, at the Omni Frisco Hotel in Texas, the first day of the 13th annual Smart Energy Summit: Engaging the Consumer.
The preshow workshop will feature presentations and analysis of the firm's research, including key energy-focused findings from a 4Q 2021 survey of 10,000 US internet households, which finds 19% of US internet households now use a time-of-use (TOU) rate plan from their utility or energy provider.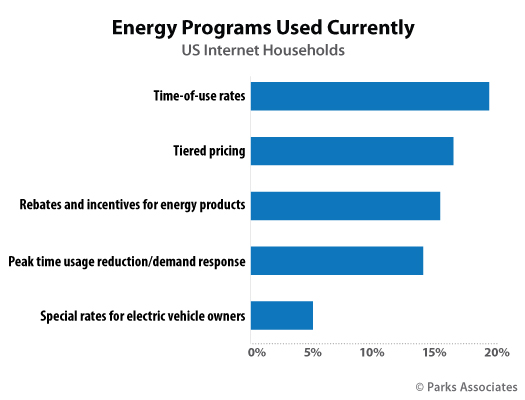 Smart Energy Summit, sponsored by Schneider Electric, SmartThings, Rapid Response Monitoring, Zen Ecosystems, and Particle.io, features keynotes from AutoGrid, Constellation Energy, Emerson, Google, and TXU Energy.
"More consumers are seeing the benefits in smart technologies, including the cost and energy savings from smart energy solutions," said Jennifer Kent, Vice President, Research, Parks Associates. "Among smart thermostat owners, nearly 50% report saving more money than expected from their device.
At our workshop, we will dig deeper into our consumer research to explore successful strategies and new means to engage consumers in energy management, utility programs, and distributed energy resources, both in single-family homes and MDUs."