92% of US internet households use Wi-Fi at home, and more than one-fourth value service quality over price
Parks Associates research finds that even as download speeds increase for US internet households, value-added services and the quality of experience are increasingly more important factors in how subscribers evaluate their BSP.
Currently, 92% of US internet households use Wi-Fi at home, and more than a quarter say they value quality of service more than price. The webinar Managed Services with Exceptional Experiences: How Broadband Providers Win, January 24, 1 pm CT (2 pm ET, 11 am PT), hosted with cloud and software technology leader Calix, examines the ecosystem for broadband services and the role of managed services, including Wi-Fi, advanced support, and privacy protection.
"US households have 16 connected devices on average, and these products rely on an uninterrupted Wi-Fi connection and solid network to deliver on their benefits," said Jennifer Kent, VP, Research, Parks Associates. "There are also multiple people in the household, each using these products for different reasons and with different expectations, so providing the support to deliver on these expectations is critical to the success of BSPs."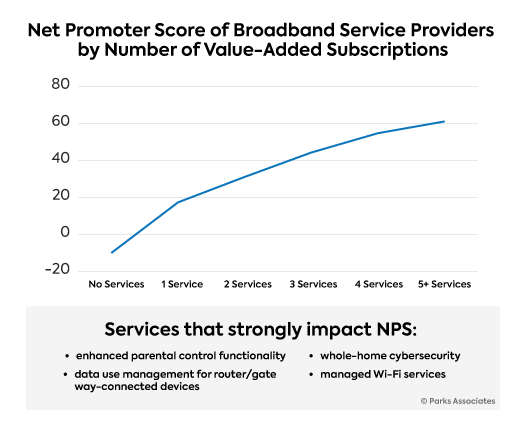 The webinar will detail key challenges in the connected home service ecosystem, including inflation, rising interest rates, and economic uncertainty, which will drive many households to reevaluate their home services and subscriptions.
Speakers will share insights on the impact of value-added services on NPS for service providers and the importance of support to ensure high quality of experience for subscribers.
Panelists:
Anne Guenther, Director of Product Marketing Support Cloud, Calix
Josh Wehe, Director of Operations, Jade Communications
Jennifer Kent, Vice President, Research, Parks Associates

Register now for this free event. To request more data or an interview, please contact Rosey Sera at rosey@parksassociates.com, 972.996.0233.