Consumers report saving $49 a month on electricity on average because of smart thermostat usage
Parks Associates will host the "State of Residential Energy Management" virtual session tomorrow, April 7, starting at 11 am CT/12 pm ET, as part of the 13th annual Smart Energy Summit: Engaging the Consumer conference series. Sponsored by Schneider Electric, SmartThings, Rapid Response Monitoring, Zen Ecosystems, and Particle.io, Smart Energy Summit addresses the changing markets for residential energy management, including consumer adoption and engagement, and new partnerships driving the growth of demand response programs.
Parks Associates' latest consumer data from Smart Energy at Home: Renewable, Responsive, Resilient shows that on average, smart thermostat owners and users report saving $49 a month on electricity as a result of the device. More than 90% of owners report they are satisfied with the energy savings from their smart thermostat.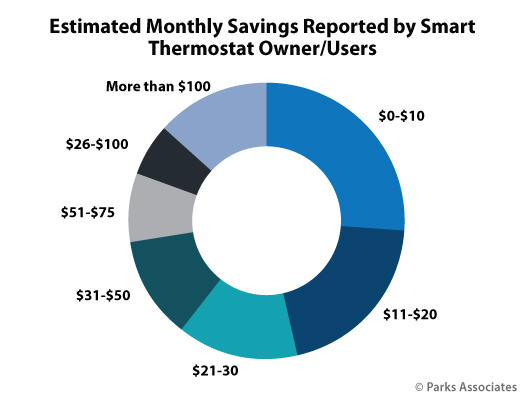 "While smart thermostat adoption has stalled in recent years, our latest research shows that consumers who own them are satisfied with the purchase and are saving money and energy," said Chris White, Senior Analyst, Parks Associates.
"We look forward to bringing the industry together to talk about how consumers will manage their home energy in the future as smart energy products and services gain traction."