Impact of growing smart home ecosystem on energy management solutions addressed in new research whitepaper
A new Parks Associates whitepaper, Next Frontier of Smart Energy Management, reports strong consumer purchase intentions for smart energy devices—almost one-third plan to buy a smart light bulb (32%), smart plug (30%), and/or a smart thermostat (29%) in the next six months.
The whitepaper, developed in partnership with SmartThings, addresses how connected technologies are making energy management and advanced home controls a reality, with implications for utilities, device and EV makers, solar and HVAC companies, and home and multifamily builders.
"Parks Associates research shows 45% of broadband households made energy-saving renovations or added major energy devices to their households in 2021, which is an all-time high," said Elizabeth Parks, President and CMO, Parks Associates. "Consumers are more aware of energy in general as costs continue to rise and as tools such as smart home energy devices and solutions become more available that allow them to track their consumption and make informed decisions on their energy usage."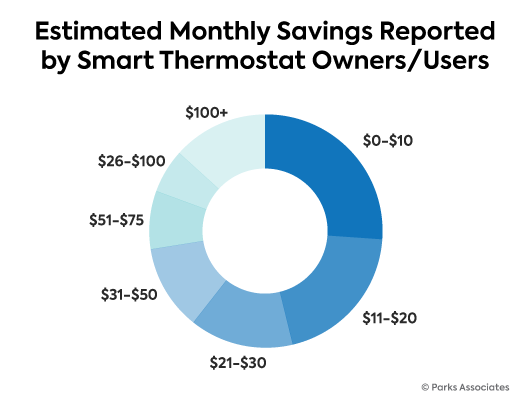 Utilities and energy providers derive four key benefits from integration with smart home solutions: increased consumer engagement with energy management programs, facilitation of smart product integration in demand response (DR) programs, increased adoption of smart products for use in energy management, and increased program awareness through cross-marketing efforts.
"As utilities move into the next stage of energy services, simplifying the architecture and complexity will be critical," Parks said. "These companies have an excellent opportunity to establish their status as the trusted energy advisor for consumers, informing their decisions on the products and services they will adopt and use to monitor and manage their energy consumption."