T‑Mobile 5G Tops Another Industry Report
T-Mobile (NASDAQ: TMUS), the most awarded 5G network in the country, has earned yet another win. Today's new independent third-party report published by Ookla® shows T-Mobile is the fastest overall wireless provider in the U.S. with the most consistent speeds. In addition, T-Mobile ranks #1 for fastest median 5G download speeds and it has the most available 5G network in the country.
"Our early bet and two-year lead in mid-band 5G continues to pay off giving T-Mobile customers the fastest, most available 5G network in the country," said Neville Ray, President of Technology at T-Mobile. "Our 5G network is delivering a powerful performance boost and it's resonating, with over 40% of our customers now using a 5G device, accounting for more than HALF of our network traffic. And we're just getting started – this leading network experience will continue to improve as we accelerate our 5G build this year and beyond."
In Ookla's Q1 Speedtest® Global Index Market Analysis United States report measuring nationwide network performance, T-Mobile took the top spot for Overall Speed, Highest Consistency, Fastest 5G Speed and Best 5G Availability. Since the Q4 2021 report, T-Mobile's overall median network speed increased 30%. And its 5G network in Q1 continued to hold its #1 ranking in speed with median downloads clocking in at more than 191 Mbps. T-Mobile's 5G network also ranked #1 in Availability, and Ookla found that 65% of T-Mobile customers spent the majority of their time on 5G – that's nearly double Verizon.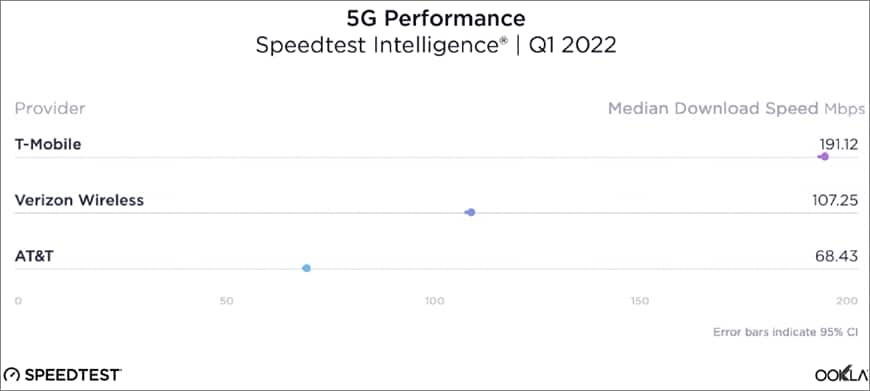 At the state level, during Q1 2022 T-Mobile was the fastest mobile provider in 42 states. And at the city level, T-Mobile was the fastest provider in 78 of the 100 most populous cities in the U.S.
T-Mobile's industry-leading 5G speed and coverage is only getting better. The Un-carrier's Extended Range 5G covers nearly everyone in the country – more than 310 million people across 1.8 million square miles. More than 210 million people nationwide are covered with super-fast Ultra Capacity 5G, and T-Mobile expects to cover 260 million in 2022 and 300 million next year.