The Future of Manufacturing: Lighthouse Factory
Much as a lighthouse guides ships into harbor at night, a Lighthouse Factory serves as a beacon for global manufacturing, shining a light on the future of production through the adoption of Fourth Industrial Revolution (4IR) technologies. Earlier this year, LG Electronics (LG) joined the World Economic Forum's Global Lighthouse Network when its facility in Changwon, South Korea – named LG Smart Park – was selected as a Lighthouse Factory.
In 2017, LG began transforming its Changwon plant, which had long been the center of the company's global home appliance manufacturing network, into a 'next-gen' production hub. By automating core processes with advanced AI and big data, LG's state-of-the-art facility has achieved greater all-around efficiency and is better able to respond to the diverse and ever-changing needs of today's consumers.
Let's take a look at major innovations that helped earn LG Smart Park its Lighthouse Factory designation.
Innovation #1. Optimized Production Logistics with 'Digital Twin' Technology

One of the key factors in the successful digital transformation of LG Smart Park is LG's unique Digital Twin technology. Recreating the production line in virtual reality, it can simulate various production scenarios and take preemptive action to keep everything in the real factory running as smoothly as possible.
LG's Digital Twin analyzes production data every 30 seconds, enabling it to accurately identify any issues that are likely to occur within the next 10 minutes. If a problem is discovered, it notifies workers so that they can take appropriate action to avert potential disruptions to the schedule. With this exceptional technology, LG can ensure the dependable, on-time supply of parts and materials for each appliance model being fabricated on the facility's mixed production lines.
Innovation #2. Automated, Three-dimensional Logistics System

The three-dimensional logistics system employed at LG Smart Park uses factory space more efficiently than the conventional logistics setup used at the Changwon plant.1 The system takes advantage of the space above the factory floor with a vast, overhead conveyor system that works in unison with ground-based, 5G-enabled automated guided vehicles (AGVs) to quickly transport parts and materials to wherever they are needed.
"Logistics is like the blood vessels in the human body," said Kang Myeung-souk, task leader of Kitchen Appliance Production Advancement Task. "To make the 'blood' flow well, we designed and built an organic communications network for our complex logistic system complete with AGVs leveraging high-speed 5G."
Innovation #3. Advanced Analytics System based on Edge Computing Technology and Machine Learning
Equipped with an advanced AI platform, the Plug-in for Intelligent Equipment (PIE) executes 'predictive maintenance' on factory facilities. Through real-time monitoring and data analysis underpinned by deep learning, LG's PIE has reduced material loss during the vacuum-forming process by as much as 80 percent.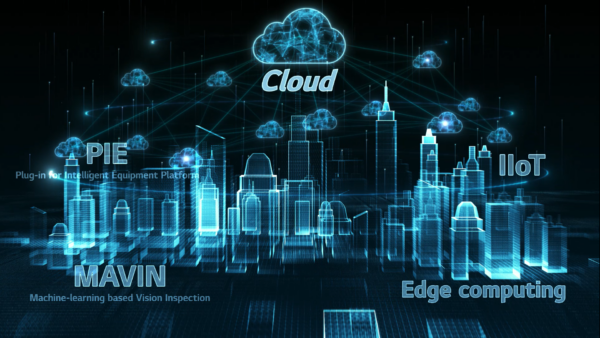 Additionally, the Machine-learning based Vision Inspection system, MAVIN Cloud provides a significant boost to quality control and inspection speed, saving time and ensuring that every product made at the factory meets LG's exacting standards.2 By establishing its own AI platforms, LG has made the work of production technicians at LG Smart Park much easier without assistance of AI expertise on site.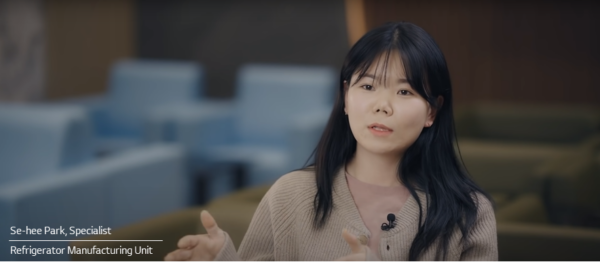 "The automation of these important processes has helped us improve overall quality and given our workers more time to focus on other key areas of production," said Park Se-hee, specialist at Refrigerator Manufacturing Unit.
Innovation #4. Safer, Faster Production through Intelligent Automation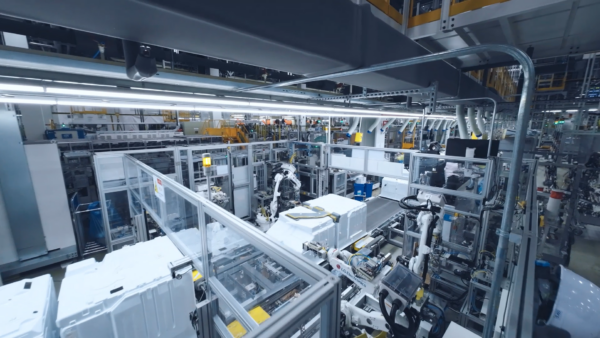 The application of intelligent automation to LG Smart Park's manufacturing system has made the entire production process safer and far more efficient. Robots leveraging advanced AI, big data and onboard cameras now perform the difficult and dangerous tasks including high-frequency welding, which involves high heat and can potentially generate harmful chemicals. Using 3D vision recognition technology, robots also perform the refrigerator door attachment process; a heavy and demanding task that still requires a high-degree of delicacy and precision.
"There is only a 0.5mm tolerance when attaching the door to the refrigerator body, but our advanced robots are up to the task," said Byun Hyo-sik, Vice President and head of Kitchen Appliance Production Division. "Based on an extremely complex algorithm, this efficient system has greatly reduced errors and sped up our overall production rate."
"Automating the attachment of refrigerator doors – which can weigh between 20 to 22 kilograms – has significantly increased quality while saving our workers from having to perform a taxing, repetitive job," added Kang Myeung-souk, task leader for the Kitchen Appliance Production Advancement Task.
LG Smart Park: Better Life for All. Through the adoption of impressive innovations, LG Smart Park has achieved a 17 percent increase in productivity3 and a 70 percent drop in the cost of defective-product returns.4 Moreover, the factory has already started contributing to the company's global sustainability efforts, reducing greenhouse gas emissions and boosting energy efficiency per unit produced by 30 percent compared to the LG's previous Changwon plant.5 It is also helping the local economy via the creation of new jobs.
LG will continue to accelerate the digital transformation of its global manufacturing network by bringing the smart, innovative production technologies pioneered at its Smart Park in Changwon to 26 LG production facilities in 13 countries.
To learn more about LG Smart Park, please follow the link.
# # #
1 Footprints in logistics have decreased by 30 percent, comparing the figures from the year 2020 to 2021 according to the lighthouse site visit report by World Economic Forum.
2 False detection rate has decreased by 96 percent, comparing the figures from the year 2020 to 2021 according to the lighthouse site visit report by World Economic Forum.
3 Units produced per hour has increased by 17 percent, comparing the figures from the year 2020 to 2021 according to the lighthouse site visit report by World Economic Forum.
4 Comparing the figures from the year 2020 to 2021 according to the lighthouse site visit report by World Economic Forum.
5 Energy input per produced unit and greenhouse gas emissions per produced unit have decreased by 30 percent, comparing the figures from the year 2020 to 2021 according to the lighthouse site visit report by World Economic Forum.